Erks 1 (15, 39, 60) 73
Erks 2 (17, 35, 59) 91

Irfan Hussain tries to go over Paul Hayden en route to hoop.



John Amoasi lays in another 2 for Erks 1.



Coach McCusker talks it over.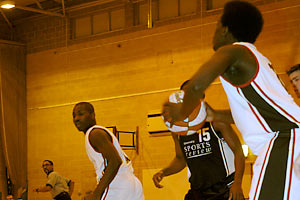 Yinka Aramide looks to feed Martin Overare (or the ref) on the break.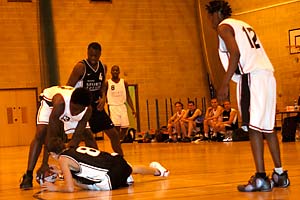 John Kimani (12) waits for the loose ball to be captured.



Rebound!


All Photos Copyright 2003 Peter Horrell
Erks 2 maintained their unbeaten Essex Met record, but only after their toughest game of the season against Julian Morvan's youthful Erks 1 team, who at full strength are capable of beating any team in the league.

In the early stages, Erks 2 coach Declan McCusker stressed the need to establish an inside game against the smaller Erks 1 side and Martin Overare was quickly into the action scoring 9 first quarter points as he dominated the boards. However, with their guards turning the ball over regularly and pulling up for early shots repeatedly, a slender 17-15 lead was all the senior Erks team had to show for their efforts, which proved nowhere near enough once Irfan Hussain got going. The Erks 1 guard hit 13 points in the 2nd quarter, including 11 in just over 2 minutes as his side catapulted into an 11 point lead. However, with their most experienced line-up on the floor, McCusker's team concentrated on attacking the basket for the final minutes of the half and were rewarded with a late 12-5 run to end the half trailing only by 4 points.

It was the younger Erks side who overturned the momentum at the start of the 3rd quarter though, a disastrous Erks 2 zone defense giving up four 3 pointers in three minutes, two to player/coach Morvan and another two to shooting guard Hussain, who was by this time red-hot. This allowed Erks 1 to open up a 14 point lead, however, at this stage Erks 2 said "enough is enough" and with John Boateng and Yinka Aramide to the fore, they switched to a man to man defense and markedly stepped up the intensity forcing a number of turnovers. With John Kimani starting to hit from the outside and Yinka scoring on the break and around the basket, Erks 2 pulled back 12 points in the final three minutes of the half, to leave the final period delicately poised, with Erks 1 leading by a solitary point.

Unfortunately for Erks 1, their only real player of size, John Amoasi, who had scored 18 points and pulled down numerous rebounds, was fouled out early in the 4th quarter, despite only appearing to have picked up 3 fouls and although this was countered by a similarly bizarre fouling out of Erks 2 leading scorer John Kimani on his 3rd foul, the deeper Erks 2 team prospered in the final quarter. Yinka proving unstoppable in the post and Dave Passacantilli driving to the hoop unhindered, despite having committed at least 6 personal fouls in the game. Although Irfan Hussain continued to score regularly, he was short of help once Dela Agbolegbe reached his 5th foul (all recorded correctly) and the eventual 18 point margin flattered Erks 2, who were only really comfortable in the final 3 minutes.

Scorers:

ERKS 1:
Hussain 32, Amoasi 18, Morvan 8, Agbolegbe 8, Bamidele 3, A French 2, R French 2.

ERKS 2:
Kimani 20, Aramide 17, Overare 17, Boateng 12, Passacantilli 11, Hayden 7, McCusker 5, Williams 2.


Report posted: 05/11/03