Erkenwald 71
Hainault 67

EMBL League and Play-Off Champions 2005 - Erks.



Steve Herd drives inside.



Dave Churches (#14) looks to stop the Hainault fast break.



Hainault's Wayne Ali scored 21.



John Powell contributed 12 points.



Hainault's Paul Edwards pulls up for another jump shot.



Martin Overare lays the ball up for another two points.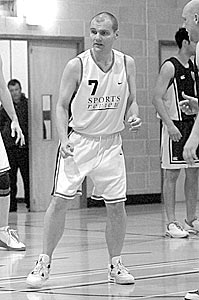 Veteran Lee Atkinson in action.



Martin Overare competes for an offensive rebound.



Declan McCusker stopped the lay up with a foul.



All Photos Copyright 2005 Peter Horrell
Erks recorded their third double of Essex Met league and playoff titles with a win over league runners up Hainault who, incidently, were the last team to beat Erks in an EMBL final in 2002. With Keith "Scarlet Pimpernel" Pringle missing for Hainault and Dela Agbolegbe missing for the Erks, this worked in Hainault's favour as the last league game between the two saw Keith register a massive 4 points whilst Dela registered 10. Since that league encounter, Erks comfortably beat Hainault at the Caister tournament (mainly due to Rodney "superstar so I don't play defence" Alexander being in Hainault's line up) however Hainault went on to take £350 as Caister runners up but still didn't buy a new kit as promised.
In the first quarter, neither team could find their scoring touch and after four minutes Hainault led 5 - 3. By the end of the first quarter, Erks were just in front 14 - 12 after two of the slowest lay ups of all time by Declan McCusker and John Powell whilst Graham Hill led Hainault with 6 points. Steve Herd had to rest on the bench though following an extensive warm up of three minutes, a nightmare start and two fouls in the first 4 minutes combined with plenty of breathing from his usual place!!
Erks opened a 24 - 12 lead in the second quarter with Martin Overare, Churches & Mark Denchfield joining the scoring but the introduction of Baskrilla for Hainault saw them claw their way back in as he got his own way on the offensive boards (taking Church to school at the same time). Vic Goddard (who actually played this time instead of being on the scoresheet whilst not being there) registered 4 points in Churches' face in a 12 - 0 Hainault run but Churches redeemed himself with 5 quick points to take Erks into a half time lead of 31 - 28. Denzil's sole contribution at this point was 2 fouls and no rebounds leading to accusations that he drank his bottle of JD from Declan before the game and not at Caister!!
Erks opened an 8 point lead at the start of the 3rd quarter however 3 successive 3 pointers from Paul Edwards saw Hainault grab the lead against an Erks zone which included Gary Glennard and Lee Atkinson for their first action of the night. Erks pulled the scores level as Mark Denchfield responded to go into the fourth with the scores level at 50. Denzil had another great quarter picking up the only "T" of the game from referee H.
Again Erks pulled away but 3 pointers from Jon Clarke, Graham Hill and Wayne Ali saw Hainault remain in contention. Finally with 2 minutes to go and Erks leading by 10, Erks had successive trips to the free throw line that put the game out of Hainault's reach and earned them their third EMBL title.
Scorers:
Erks: Declan McCusker 7, Mark Denchfield 21, Steve "training guru" Herd 4, Martin Overare 6, John Powell 12, Dave "Garbage Time" Churches 21, Gareth Sims, Gary Glennard, Lee Atkinson.
Hainault: Wayne Ali 21, Paul Edwards 14, O Baskilla 4, Jon Clarke 6, Graham Hill 18, Vic Goddard 4, Andy Clark, R Burns, B Shaw, Denzil McDonald (no points as usual, no rebounds, 3 fouls, 1 "T" and 1 bottle of JD).
Report posted: 13/05/05