Barking & Dagenham Erkenwald 83
Lambeth 61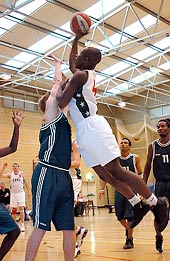 Martin Overare hits the baseline jumper.



Gary Glennard watches the ball roll out of bounds.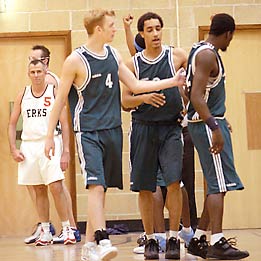 Ejected.



Shab "outta retirement" Niaz.



Dave Churches.



Guard Dave Bromfield.



All Photos Copyright 2004 Peter Horrell
Erkenwald got their 2004/5 Founders Cup campaign off to a winning start with a convincing victory over South London side Lambeth. In a fiery game that saw visiting player Antonio sent off early in the second half, Erkenwald kept their composure and lead by Martin Overare's 33 point haul the hosts eased to a 22 point success.
After a low key opening, Erks vaulted into an early lead as guard Shab Niaz hit a pair of trademark 3 pointers. Martin Overare was also making his presence felt around the hoop against Lambeth's athletic forwards, as he hit 11 first quarter points. The visitors were struggling to keep pace, as their drives to the hoop were blocked by the imposing 6'9 figure of Dave Churches and their outside shooting was erratic at best. However a lax end to the 2nd period from the Erks saw Lambeth draw to within 7 at the break, as the Erks started to commit turnovers as the quicker opposition guards upped the pressure on the ball.
The 3rd quarter was the pivotal period in the game, Churches and Overare scored at will in the opening minutes to give the Erks a double digit lead, as Coach McCusker's instructions to feed the ball inside were heeded. Possibly in frustration at the game slipping away, the visitors forward Antonio then tangled with Ed Bailey after he leapt all over the Erkenwald player whilst attacking a rebound. Although Bailey is renowned for his uncompromising play, he appeared to be blameless on this occasion as the altercation ended with the Lambeth player pushing him in the face and then being instantly ejected from the game by the referee standing just yards away from the incident.
Although the fired up Lambeth side then rallied slightly, putting the much older Erks side under pressure with a full court press, the visitors couldn't score regularly enough to get back into the contest. And with Overare being a willing recipient and finisher of some long passes over the top, the Erks comfortably won the final quarter and eased home to an 83-61 win. Erks next Founders Cup outing is away at the Met Police in mid-November.
Erks Scorers:
Overare 33, Churches 16, Niaz 13, Herd 7, Bromfield 4, Powell 4, Bailey 2, Glennard 2, Denchfield 2
Report posted: 17/10/04